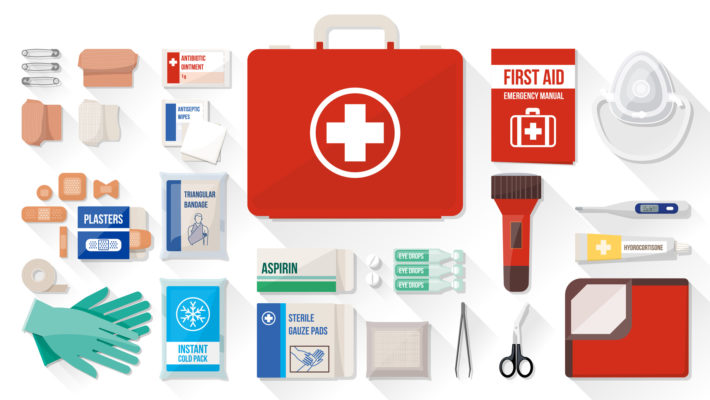 Build Your Own First Aid Kit!
Hurricane season in the Cayman Islands is June 1st through to November 30th, so now would be a great time to check that your household's First Aid Kit is up to date as it's an essential part of your hurricane supplies to treat a variety of injuries and ailments people can sustain during and following a major natural disaster.
Follow these three simple tips to help you stock the perfect first-aid kit:
Customize your kit. There are plenty of recommendations on what to keep in a basic first-aid kit and you can even buy them already assembled at Kirk Pharmacy. But what makes it truly useful is when you customize your emergency kit based on your and your family's personal needs and activities. Some ideas include medications (epinephrine injection, insulin), emergency phone numbers, and important health information. Or a bike repair kit if you like to ride. Oh, and if your kids are of the furry type, add some extra supplies for them too. Pets need emergency kits too!
Keep it handy. Your first aid kit doesn't do you any good if it's not easily accessible, so think about the best place to keep it. It could be in your home, your car, at work — or you can have several that you keep in different places. You may want a small one for your purse, diaper bag, or your bike, and a larger one for your home or car.
Keep it up-to-date. This seems impossible — until you put a reminder in your phone. Do it right now! Set a reminder to check your first aid kit regularly — maybe twice a year, or at the beginning of each season since your supplies may change. Make sure you replace anything that's expired, check batteries on flashlights or other electronics, and add anything that's seasonally appropriate (like sunscreen and mosquito repellant for summer).
The Red Cross recommends that all first aid kits for a family of four include the following:
2 absorbent compress dressings (5 x 9 inches)
1 pack of band-aids
1 adhesive cloth tape (10 yards x 1 inch)
5 antibiotic ointment packets (approximately 1 gram)
5 antiseptic wipe packets
2 packets of aspirin (81 mg each)
1 blanket (space blanket) [Available on the Red Cross Store]
1 breathing barrier (with one-way valve)
1 instant cold compress
2 pair of nonlatex gloves (size: large)
2 hydrocortisone ointment packets (approximately 1 gram each)
Scissors
1 roller bandage (3 inches wide)
1 roller bandage (4 inches wide)
5 sterile gauze pads (3 x 3 inches) [Available on the Red Cross Store]
5 sterile gauze pads (4 x 4 inches)
Oral thermometer (non-mercury/nonglass)
2 triangular bandages
Tweezers
First aid instruction booklet
And don't forget, you should always carry your health insurance ID card in your wallet – just as you would your driver's license or credit cards.
Useful links