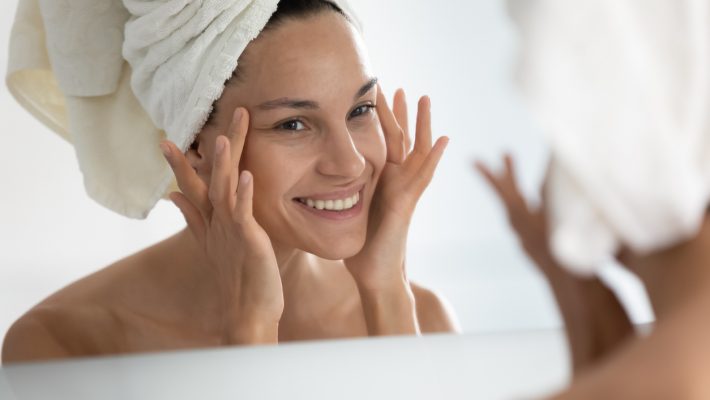 Natural Ingredients that Actually Work for Wrinkles
More and more people are asking which natural products they should use for reducing wrinkles and sun spots.
Alpha hydroxy acids (AHAs) are a great place to start. There's a fair amount of evidence that they work. Research shows that applying creams, peels or lotions containing AHAs reduces wrinkles and other signs of aging such as sun spots. They seem to work by removing the top layers of dead skin cells and increasing the thickness of deeper layers of skin. And they're likely safe for most people when applied at a concentration of 10% or less. If you want to give AHAs a try, make sure they also use sunscreen – AHAs can increase sun sensitivity.
Vitamin C is another product people ask for. While some of these products might be expensive, there is some evidence that vitamin C helps. Research shows that applying topical products containing 3% vitamin C might reduce the appearance of wrinkles on the face after 12 weeks. Microneedle patches containing 5.6% vitamin C also seem to help with the appearance of crow's feet by the eyes. Beyond some tingling and irritation, there isn't any reason to expect side effects from these products.
You might also hear about hyaluronic acid. There's some confusion surrounding this ingredient because there are various ways to administer it. Hyaluronic acid as an injectable gel filler (Juvedérm) is approved by the FDA as a medical device for correcting moderate to severe facial wrinkles and folds – but it can only be administered by a healthcare professional. Oral hyaluronic acid dietary supplements are also available. But hyaluronic acid has only been studied in combination products, so it's not clear if taking it by mouth has any beneficial effects for aging skin. Lastly, topical hyaluronic acid is available in many over-the-counter products, and acts as an excellent moisturizer.
Over-the-counter Retinoids are now available in addition to prescription retinoid products. Retinoids may be the best for minimizing fine lines and have very few side effects, since the over-the-counter dose is small compared to the prescription products. However read the product pamphlet carefully, since retinoids of any strength must be avoided during pregnancy, and can cause sun sensitivity.
Collagen plays a major role in wound healing. Natural collagen production decreases with age, so there's interest in using collagen supplements to improve skin health, particularly for aging skin. Keep in mind there is no evidence that topical collagen will improve skin health, but there is growing evidence that taking collagen by mouth can help improve wrinkles, skin elasticity and improve hair and nail strength.
Remember to use a daily sunscreen, drink lots of water, and keep the skin moisturized. Avoid wasting too much money on trendy ingredients with no supportive evidence, such as topical CBD. While there isn't any reason to expect any safety concerns, there's no evidence that applying these ingredients topically to the skin will have anti-aging effects.